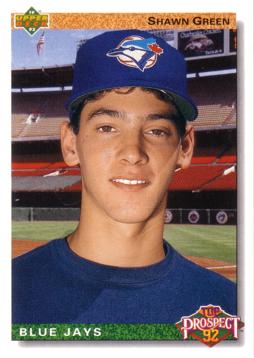 Nor is he "
playing exceptionally well
," having a "
hot start
," 'tearing it up,' or anything else. I admit that he's doing well, but 11 hits in 34 at bats is not an indication of anything substantial. Green's hold on a .324 batting average and .410 on-base percentage is about as firm as Toronto's hold on first place in the AL East. 11 hits: 1 home run, 2 doubles and 8 exciting singles. If Green had one more hit in those 34 ABs (let's pretend that game ending liner in the last Braves game got past their first baseman, tying the game that Green had lost by dropping an easy fly ball). He would be hitting at a rip-roaring .353, 29 points higher. Or what if a few of those broken-bat bloopers found infield gloves and not outfield grass? One less hit: .294. Two less: .265. Three less: .235. DO YOU SEE WHY HIS BATTING AVERAGE IS TOTALLY MEANINGLESS, ESPECIALLY WITH 34 ABs?
Even with all that, Green is only slugging .471, still 20-50 points above any reasonable projection, but not great by any measure. This is the best it's going to get, folks. The grandest performance we can hope for from Shawn Green is one home run and two doubles for every eight singles. Somehow I doubt we'll see even that.
Don't get me wrong, I like Shawn Green. I mean, he seems cool. And I'm not going to blame him for a faulty managerial and administrative decision. But it frustrates me to no end that a young player is denied opportunities because a quickly declining veteran hit a lukewarm streak of variance.
Trade Watch:
Consistent with my new duties over at
MLB Trade Rumors
, I'm going to start posting this section periodically. In it, I'll just list Mets whom I think might be traded. Nothing substantial, just speculation:
Chan Ho Park
- pitched well in last two spring training appearances; many teams could use him.
Jorge Sosa
-
was offered
to the Orioles for
Todd Williams
. They declined. The Orioles are stupid.
Jason Vargas
- a young left-handed pitcher, who, along with the terrific trio of
Adam Bostick
,
Ben Johnson
and
Jon Adkins
, is all the Mets have to show for dumping about 400 MPH of pitching power. Can Mr. Minaya perform a Julio/Hernandez-like turnaround?
Jon Adkins
, the previously afformentioned. He's a reliever with big league experience who posted a 3.98 ERA in 55 games for the Padres last year (yea, stupid, but so are a lot of GMs... unusually low BABIP and unadjusted ERA under 4 in Petco Park, anyone? Yea, someone...)
Lastings Milledge
- so much majesty and mystique (especially when the Mets don't play him), Omar might just have to trade him when his value is highest. Not good for this blog.